Makoto Tateno
< Back to author list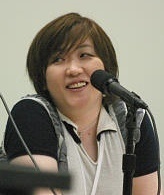 Name (in native language):
立野真琴
Birth Date: March 23
Also writes under the pen-name of Shinjuku Tango.
Makoto Tateno is an extremely prolific mangaka, having created 30+ series of manga in both the shoujo and BL genres. However, she is probably most well known amongst English-speaking audiences for her yaoi series "Yellow," published by DMP. She debuted in 1986 with the short story "Yuraete Tamago Boys," published by Hana to Yume.