Marian Babson
< Back to author list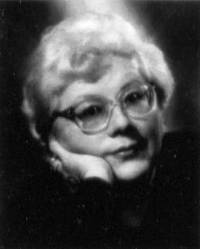 Marian Babson, a pseudonym for Ruth Stenstreem, was born in Salem, Massachusetts, but lived in London for the greater part of her life.
She worked as a librarian; managed a campaign headquarters; was a receptionist, secretary, and den mother to a firm of commercial artists; and was co-editor of a machine knitting magazine, despite the fact that she can't knit, even with two needles.
A long sojourn as a temp sent her into the heart of business life all over London, working for architects, law firms, the British Museum, a Soho club, and even a visiting superstar.
She also served as secretary to the Crime Writers' Association. She became a full-time writer whose many interests included theatre, cinema, art, cooking, travel, and, of course, cats, which feature in many of her mystery books. Her first published work was 'Cover-Up Story' in 1971 and 'Only the Cat' (2007) was her 44th novel.
The publisher's tagline for her style is "Murder Most British," a style reflected in each of her novels. Any violence is not graphically described and the sleuths are usually amateurs.
She re-used certain characters, such as the publicity firm Perkins & Tate, and a couple of ageing actresses, her books all stand-alone and can be read in any order.
Gerry Wolstenholme
September 2010
No results
We couldn't find a match for these filters.
Please try another choose.