Mark Harris
< Back to author list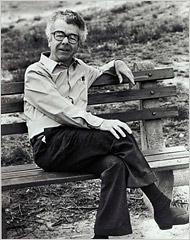 Harris was born Mark Harris Finkelstein in Mount Vernon, New York, to Carlyle and Ruth (Klausner) Finkelstein. At the age of 11, he began keeping a diary, which he would maintain for every day of his life thereafter.
After graduating in 1940 from Mount Vernon High School, he dropped his surname because "it was a difficult time for kids with Jewish names to get jobs." He subsequently went to work for Paul Winkler's Press Alliance news agency in New York City as a messenger and mimeograph operator.
He was drafted into the United States Army in January 1943. His growing opposition to war and his anger at the prevalence of racial discrimination in the Army led him to go AWOL from Camp Wheeler, Georgia, in February 1944. He was soon arrested and then hospitalized for psychoneurosis. He was honorably discharged in April 1944. His wartime experience formed the basis for two of his novels, Trumpet to the World (1946) and Something About a Soldier (1957).
Harris joined The Daily Item of Port Chester, New York, as a reporter in May 1944. A year later he accepted a position with PM in New York City but was fired after two months. In July 1945 he was hired by the International News Service and moved to St. Louis. While there, he met coworker Josephine Horen, whom he would marry in March 1946. After resigning in July 1946, he spent the next year and a half in a succession of short-lived journalism jobs in Albuquerque, New Mexico (Albuquerque Journal), Chicago (Negro Digest and Ebony), and New York (Park Row News Service).
In February 1948, Harris abandoned journalism to enroll in the University of Denver, from which he received a Master's degree in English in 1951 as well as obtaining a PhD in American Studies from the University of Minnesota in 1956.
In September 1956, he was hired by the English department of San Francisco State College, where he taught until 1967. He went on to teach at several other universities, including Purdue, California Institute of the Arts, the University of Southern California, and the University of Pittsburgh. In September 1980, he joined the faculty of Arizona State, where he was a professor of English and taught in the creative writing program until his retirement in 2001.
His first novel, Trumpet to the World, is the story of a young black soldier married to a white woman who is put on trial for striking back at a white officer, was published in 1946, and he continued to produce novels and contribute to periodicals through the years. In 1960, while in his first college teaching position, Harris promoted his then-most-recent book in a TV appearance as guest contestant in "You Bet Your Life", a game played on The Groucho Show.
In January 1962, Something About a Soldier, a stage version of Harris's novel, played briefly on Broadway. Written by Ernest Kinoy and produced by the Theatre Guild, it featured Sal Mineo in the lead role. Later, the novel Bang the Drum Slowly was adapted into a stage play at the Next Theatre in Evanston, Illinois.
Harris died of complications of Alzheimer's disease at Santa Barbara Cottage Hospital at age 84. He was survived by his wife, Josephine Horen; his sister, Martha; two sons, one daughter, and three grandchildren.
Harris was best known for a quartet of novels about baseball players: The Southpaw (1953), Bang the Drum Slowly (1956), A Ticket for a Seamstitch (1957), and It Looked Like For Ever (1979). Written in the vernacular, the books are the account of Henry "Author" Wiggen, a pitcher for the fictional New York Mammoths. In 1956, Bang the Drum Slowly was adapted for an installment of the dramatic television anthology series The United States Steel Hour; starring Paul Newman as Wiggen and Albert Salmi as doomed catcher Bruce Pearson. The novel also became a major motion picture in 1973, with a screenplay written by Harris, directed by John D. Hancock and featuring Michael Moriarty as Wiggen and Robert De Niro as Pearson.
Books By Mark Harris
Displaying all 2 products