Marly Youmans
< Back to author list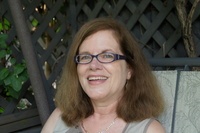 "Youmans (pronounced like 'yeoman' with an 's' added) is the best-kept secret among contemporary American writers." --John Wilson, editor, Books and Culture
MAZE OF BLOOD (Mercer University Press, 2015.) Novel. Inspired by the life of Robert E. Howard. Profusely decorated by artist Clive Hicks-Jenkins. Literary / fantastic. "...A haunting tale of dark obsessions and transcendent creative fire, rendered brilliantly in Youmans' richly poetic prose." --Midori Snyder
GLIMMERGLASS (Mercer University Press, 2014) IndieFab BOTYA Finalist. Art by Clive Hicks-Jenkins. Novel. "It's brilliantly well-written, shockingly raw, and transportingly—sometimes confusingly (but not in a bad way)—weird. Glimmerglass shimmers on the boundaries of the real and the unreal, of poetry and prose, of the ordinary and the fantastic. It's down to the caprice of the individual reader, therefore, to decide exactly what sort of story it's trying to tell. It's difficult to overstate the emotional effect that Glimmerglass has had on me. This is a beautiful, complex, moving book. Marly Youmans's prose flows like clear water, and every image is, as Cynthia observes, "full of meaning" (p. 39)." -Tom Atherton, "Strange Horizons"
A DEATH AT THE WHITE CAMELLIA ORPHANAGE (Mercer University Press, 2012) The Ferrol Sams Award for 2012; Silver Award in fiction, The ForeWord BOTYA Awards. Novel. "It is seldom that a novel from a small university press can compete with the offerings from the big houses in New York. A Death at the White Camellia Orphanage may be the best novel this reviewer has read this year. Its quality and story-telling remind one of The Adventures of Roderick Random, Great Expectation and The Grapes of Wrath among others. The winner of the 2012 "Ferrol Sams Award for Fiction," A Death has the potential to become a classic American picaresque novel. / One wishes, however, that this novel will not get shunted into the regional box and be seen only as a Southern novel. Its themes and the power of its language, the forceful flow of its storyline and its characters have earned the right to a broad national audience." 30 July 2012 ABOUT.COM Contemporary Literature, John M. Formy-Duval.
THALIAD (Montreal: Phoenicia Publishing, 2012.) Post-apocalyptic long poem combining elements of the novel and the epic. Art by Clive Hicks-Jenkins. In THALIAD, Marly Youmans has written a powerful and beautiful saga of seven children who escape a fiery apocalypse----though "written" is hardly the word to use, as this extraordinary account seems rather "channeled" or dreamed or imparted in a vision, told in heroic poetry of the highest calibre. Amazing, mesmerizing, filled with pithy wisdom, THALIAD is a work of genius which also seems particularly relevant to our own time. --novelist Lee Smith
THE FOLIATE HEAD (UK: Stanza Press, 2012.) Art by Clive Hicks-Jenkins. Collection of formal poetry.
THE THRONE OF PSYCHE (Mercer University Press, 2011.) Collection of formal poetry. "Youmans is a writer of rare ability whose works will one day be studied by serious students of poetry." Greg Langley, Books editor, The Baton Rouge Advocate, October 2, 2011
VAL/ORSON (P. S. Publishing, 2009.) Novel. "Book of the Year" for 2009 Books and Culture Magazine
INGLEDOVE (Farrar, Straus and Giroux, 2005) Fantasy, y.a.
CLAIRE (Louisiana State University, 2003) Collection of poetry.
THE WOLF PIT (Farrar, Straus and Giroux, 2001.) The Michael Shaara Award. Short list, Southern Book Award.
CATHERWOOD (Farrar, Straus and Giroux, 1996.)
LITTLE JORDAN (David R. Godine, Publisher, 1995.)
Books By Marly Youmans
Displaying all 3 products