Martha Spong
< Back to author list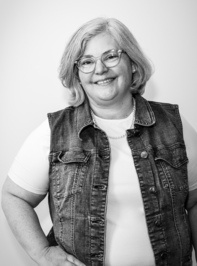 Martha Spong is a United Church of Christ pastor, author, and clergy leadership coach. Her weekly e-mail, Reflectionary, offers preaching prompts and liturgy for the Revised Common Lectionary. She has served congregations of diverse size and situation, in Maine and Pennsylvania, as both a settled and intentional interim pastor. As a coach, Martha is an effective and confidential resource for pastors engaged in reorganizing priorities, navigating conflict, changing up sermon preparation, or discerning a new call.
She is the editor of The Words of Her Mouth: Psalms for the Struggle, a collection of 150 psalms written by ten women poets as a balm in this season of spiritual strife and political struggle. The Rev. Dr. Wil Gafney, author of Womanist Midrash, calls the book "A new psalter for a new age. Its poetry arcs forward into [a] world in which the inspiration for its creation will pass but its power endures as praying words, healing words and, when necessary, fighting words."
About her book, Denial is My Spiritual Practice (and Other Failures of Faith), coauthored with Rachel Hackenberg, Meredith Gould writes, "With insight, gasp-generating honesty, and wit, Hackenberg and Spong help readers appreciate how every event, every interaction, and every feeling can become an opportunity to learn more about living a spiritual life."
Martha was a co-founder of RevGalBlogPals in 2005 and served as Executive Director from 2013-2020. Her work emphasized ecumenical collaboration, LGBTQ+ inclusion, and advancing the organization's commitment to anti-racism. She created space for reflections on the intersection of faith and public life in a weekly feature, "The Pastoral is Political." Under her leadership, RevGalBlogPals received the United Church of Christ's Antoinette Brown Catalyst Award for providing a provocative space that advances women in ministry.
Martha loves knitting socks, singing along with musicals, and cheering for the Washington Nationals. She lives in South Central Pennsylvania with her wife, who is a Presbyterian Church (USA) pastor. They have four children, two lively dogs, and one disgruntled cat.
No results
We couldn't find a match for these filters.
Please try another choose.