Martha Williamson
< Back to author list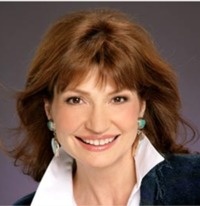 MARTHA WILLIAMSON made television history when her CBS series, "Touched By An Angel" set a new standard for an inspirational family drama when it grew to a weekly audience of 25 million viewers and exploded into more than a billion dollar franchise during its initial 9-year run.
As Executive Producer and Head Writer of the ground-breaking series, Williamson was the visionary who guided the show into previously uncharted territory with her unique brand of inspirational story telling that produced more than strong ratings; it changed lives.
Correspondence from viewers reveals its continued impact as the series plays in syndication and DVD's worldwide.
Williamson then sealed her place in history when she went on to become the first woman to solely executive-produce two one-hour dramas simultaneously, after creating and executive-producing "Promised Land", which aired for three years on CBS.
As the go-to creative executive for inspirational family entertainment, Williamson is consulting with companies that are expanding their brands into the growing genre of faith and family programming. Under her MoonWater Productions banner, she is developing a number of television pilots. Her "Dead Letters" comic drama is currently in production to air on The Hallmark Channel in the Fall of 2013. She has also returned to script doctoring and is serving as a Screenwriter and Executive Producer for the remake of Disney's classic family film "Thomasina."
She began her career in comedy, working with the producing teams for Carol Burnett and Joan Rivers and went on to write for and produce situation comedies such as "The Facts of Life", "Family Man", "Jack's Place" and "Living Dolls" for all the networks. She became known as a "script doctor" who was brought in to fix shows that weren't working, as was the case with the abandoned pilot that later became "Touched By An Angel".
Williamson made an unusual transition when she stepped in front of the camera to host of "A Touch of Encouragement," a video web series, which quickly became the #1 inspirational video site on Beliefnet. She also successfully launched a musical one-woman show "Martha At Risk" which she performed and developed with Tony award-winning composer Larry Grossman.
A popular author and speaker, Williamson's "Inviting God to Your Wedding", a must-have book for brides, was recently released in its 10th anniversary edition by Random House. She continues to be a sought-after speaker for colleges, universities and organizations. Past speeches have included keynotes for The United States Senate Retreat,The National Speakers Association Convention, The National Executive Women's Association and the World Association for Children and Parents.
Williamson's work has been inducted into the Television & Radio Hall of Fame and honored with numerous awards including the Freedom Works Award from the United States Congress, the Anti-Defamation League's Deborah Award, the Edward R. Murrow Responsibility in Television Award, the Producer's Guild Nova Award, the Templeton Prize Epiphany Award, achievement awards from the NAACP and nine Emmy nominations.
She has been featured on talk shows such as "Oprah", "60 Minutes" and "Larry King Live" as well as in numerous magazine articles.
She serves on the Board of Trustees for Williams College and The Pasadena Playhouse, where she established the Carrie Hamilton Theatre together with Carol Burnett. In 2003, she was appointed by the President to the White House Council for Service and Civic Participation and served on its Board for two years.
Martha is a graduate of Williams College. She founded the Williams Arts and Entertainment Fellowship there, which provides internships and support for students and graduates interested in a career in the arts. She is a frequent guest lecturer and has been involved as a director and playwriting advisor to the Williams Summer Theatre Lab since its inception. She received the Williams Bice