Mary Batten
< Back to author list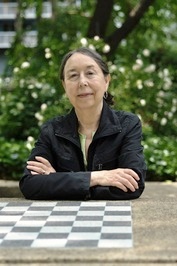 Mary Batten is an award-winning writer for television, film and publishing. Her many writing projects have taken her into tropical rainforests, astronomical observatories, scientific laboratories, and medical research centers.
She is the author of many books for children. The most recent are Life in A Frozen World: Wildlife of Antarctica (Peachtree 2020) and Spit: What's Cool About Drool (Firefly 2019). Other books include: Baby Orca (Penguin Random House 2016); Rattler (Penguin Random House 2016); Please Don't Wake the Animals: A Book about Sleep (Peachtree 2008); Who Has A Belly Button (Peachtree 2004); Aliens from Earth ((Peachtree 2003) – 2006 Isaak Walton Conservation Book of the Year Award; Selected by New York City Public Schools in support of 4th grade science requirement for the study of ecosystems (Revised & updated edition Peachtree 2016); Hey, Daddy! Animal Fathers and Their Babies – Named Outstanding Science Read Aloud 2003 by the National Association for the Advancement of Science (Peachtree 2002); Wild Cats (Penguin Random House 2002); Anthropologist: Scientist of the People -- Named Outstanding Science Trade Book for Children by the National Science Teachers Association and the Children's Book Council (Houghton Mifflin 2001); Hungry Plants (Penguin Random House 2000); The Winking, Blinking Sea -- Named one of the Best Children's Books for 2001 (Millbrook Press, 2000); Extinct! Creatures of the Past (Golden Books, 2000); Baby Wolf (Grosset and Dunlap, 1998); Sexual Strategies: How Females Choose Their Mates, (Tarcher/Putnam, 1994; reprinted with new introduction by iUniverse 2008); Nature's Tricksters (Sierra Club Books/Little Brown, 1992), Discovery By Chance (Funk and Wagnalls) and The Tropical Forest: Ants, Ants, Animals and Plants (T.Y. Crowell). She has appeared on OPRAH. TOM SNYDER and various other television shows and done many radio interviews.
Her magazine articles are published in a variety of publications, including Cosmopolitan, Ladies Home Journal, Modern Maturity, Shape, International Wildlife, National Geographic World, ZooNooz, Science Digest, Calypso Log, and Dolphin Log.
Mary Batten was nominated for an Emmy for her work on the Children's Television Workshop's science series 3-2-1-CONTACT, and she has written some 50 nature documentaries for television series, including the syndicated WILD WILD WORLD OF ANIMALS (Time-Life Films) and others for National Geographic and Disney Educational Films.
Her magazine article for Science Digest, "Sexual Choice: The Female's Newly Discovered Role," won The Newswomen's Club of New York's Front Page Award for best feature story.
She was editor of The Cousteau Society's award-winning membership magazine, Calypso Log, for six years.
She was married to the late composer Ed Bland. They have two children.