Matt Phelan
< Back to author list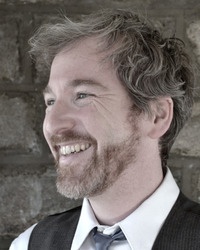 Matt Phelan made his illustrating debut with Betty G. Birney's
The Seven Wonders of Sassafras Springs
(Atheneum/Simon & Schuster). Since then he has illustrated many picture books and novels for young readers, including
Where I Live
by Eileen Spinelli (Dial),
Very Hairy Bear
by Alice Schertle (Harcourt), and
The Higher Power of Lucky
by Susan Patron (Simon & Schuster) winner of the 2007 Newbery Medal.
Matt studied film and theater in college with the goal of one day writing and directing movies. But his first love was always drawing, and the more he saw the wonderful world of children's books, the more he realized that this was the place for him. Being an illustrator is in many ways like being an actor, director, cinematographer, costumer, and set designer rolled into one.
Matt writes: "I have a fascination with the decade of the 1930s. The movies were learning to talk (and in the case of King Kong, growl), the music was beginning to swing, and the nation was thrown into tremendous turmoil. On one hand, you see a level of suffering documented in the dramatic and gritty photography of Dorothea Lange and Walker Evans. On the other hand, consider what the American public was flocking to see in the movie theaters: the glamour and grace of Fred Astaire and Ginger Rogers dancing in a series of perfect musicals. For my first book as both writer and illustrator (coming in 2009 by Candlewick Press), I naturally gravitated to this complex decade, specifically the strange world of the Dust Bowl."