Mercer Mayer
< Back to author list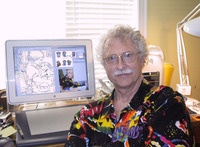 I began illustrating books in 1966. Since that time I have published over 300 books. Most of my books are about things that happened to me when I was a little kid. Now I'm a big kid and I write about things that happen now, especially with my own children. They always remind me of what it was like.
I was born in Arkansas in 1943. Boy, that was a long time ago! It's real fun to be an old kid. Then my parents moved to Hawaii when I was thirteen years old. After High School, I went to Honolulu Academy of Arts. Then I moved to New York City. My wife, Gina, and I write the Little Critter stories together.
For more information, please see
http://en.wikipedia.org/wiki/Mercer_M...