Michael Fickess
< Back to author list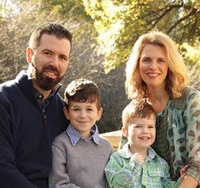 Michael Fickess is devoted to calling believers to a pursue a deeper and more intimate relationship with God through authentic community, effective prayer, a revelational knowledge of Scripture, and a hunger to explore the "deep things" of God. He earned a Master's degree in Middle Eastern History after developing a heart for the Middle East during his tour of duty as an Infantry soldier in Baghdad.
Michael currently serves on Morningstar Fellowship's intercession leadership team and as a teacher at the Comenius School for Creative Leadership, Morningstar's K-12 school. Michael's published works include Enoch's Blessing, Paths of Ever-Increasing Glory, articles on his blog at michaelfickess.com, and articles in the Morningstar Journal. He and his wife, Rachelle, live in Charlotte, North Carolina, and have two children, Samuel and Ari.
Michael and his family also have a passion for gardening and homesteading because this simple lifestyle allows them to spend more time together as a family, enjoy nature, and live a more self-sufficient lifestyle in turbulent times.
Visit
www.michaelfickess.com
for more information about Michael's ministry, free podcasts, timely prophetic insights, and more
No results
We couldn't find a match for these filters.
Please try another choose.