Michael Griffo
< Back to author list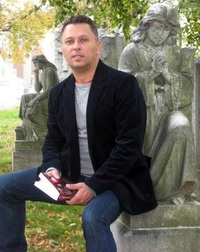 Michael Griffo was born, raised, and has since relocated to New Jersey. He is an award-winning playwright and all of his plays have been produced throughout the country and in London. Two of his plays -- CLOUDY and 5G/10B -- have been published in Smith & Kraus's Best 10 Minute Plays for 2 Actors: 2005 and CLOUDY is licensed by Playscripts, Inc.
His first novel, BETWEEN BOYFRIENDS, was written under a pseudoymn, Michael Salvatore (which is actually the author's middle name) and is a hilarious piece of gay fiction that is best described as Sex & The City meets Will & Grace. He has also written a novella published in REMEMBERING CHRISTMAS, a gay Christmas anthology.
UNNATURAL, written under the author's real name, is the first book of the Archangel Academy series that also include UNWELCOME and UNAFRAID. UNNATURAL is a young adult novel that explores the relationship of two young outcasts who meet at an all boy's boarding school in north western England. Set against a backdrop of vampires and the supernatural, it is a coming of age story that young and old alike will be able to relate to.
No results
We couldn't find a match for these filters.
Please try another choose.