Michael L. Williams Jr.
< Back to author list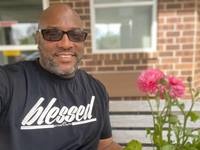 Michael Mickey Williams Jr. an Atlantic City New Jersey native was once homeless, eating food out of trash cans, suicidal, addicted to heroin, and crack cocaine. He spent 22 years of his life in-and-out of jails and rehabilitation centers since he was a teenager. Nowadays, however, he's married, a substance abuse counselor, a minister, and a ten-time published author with titles like "Pushed out the Crack House into God's house, My Purpose is Greater than my struggles, and I'm a Giant Killer to name a few, he's also one of the Co-founders of The Minor Adjustments Program which is dedicated to preventing and reducing crimes, their primary purpose is to teach men and women how to make the "Minor Adjustments" that are necessary for their lives, Their motto is "Anywhere but backward" Mr. Williams is a dedicated advocate for those who are struggling with addictions or criminal lifestyles, mainly because he struggled with those same barriers.
Beyond the Minor Adjustments Program, It is said that he was named "Preacher Boy" by his beautiful wife Lernell Apple Williams, his style of preaching the Gospel of Jesus Christ makes it easy for him to communicate to both the common people and the religious, his stated that he tries to use everyday language already familiar to his culture, with a purpose to always try to touch individual personal needs at the same time communicate spiritual truth.
As a father of seven, with four grandkids he credits his parents as the source of his perseverance and sense of self-reliance. After 22 years of being in bondage to addiction, Mr. Williams continues to be one of today's most inspirational, encouraging, and influential men today.
To learn more about what he is doing, check out his
Website:
www.michaelmickeywilliamsjr.com/
Instagram: @michaelmickeywilliamsjr
Facebook at
https://www.facebook.com/MichaelMicke...