Muhammad A.S. Abdel Haleem
< Back to author list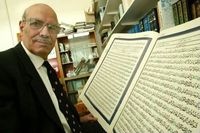 Muhammad A. S. Abdel Haleem, OBE, is Professor of Islamic Studies at SOAS, University of London in London, England, and editor of the Journal of Qur'anic Studies.
M. A. S. Abdel Haleem was born in Egypt, and learned the Qur'an by heart from childhood. Educated at al-Azhar, Cairo, and Cambridge Universities, he has taught Arabic and Islamic Studies at Cambridge and London Universities since 1966, including courses in advanced translation and the Qur'an. He is now Professor of Islamic Studies at the School of Oriental and African Studies, University of London.
In 2004, Oxford University Press published his translation of the Qur'an into English. He has also published several other works in this field.
No results
We couldn't find a match for these filters.
Please try another choose.