Murray Pura
< Back to author list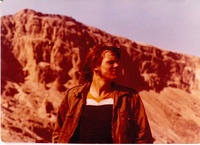 Murray Pura lives in Alberta, Canada near the Montana border and Waterton-Glacier Peace Park. His first novel was released in Toronto and was a finalist for the Dartmouth Book Award. He has been a finalist for several awards in the US and Canada and in 2012 won the Word Award of Toronto for Best Historical Novel for The White Birds of Morning. In 2021, he won the Selah Award USA for second place for his short story, Lone Star, included in The Amish Menorah anthology (Elk Lake). He shared another Selah Award for third place with fellow co-authors for the anthology A Christmas Collection. Murray is currently published by Barbour, Baker, Harper One, Zondervan, Harvest House, Harper Collins, Harlequin, Elk Lake Publishing in Plymouth, MA; and MillerWords in Kansas.
His diverse writing spans many genres including: historical fiction, contemporary fiction, literary fiction, romance, adventure, western, suspense, fantasy, Amish, and inspirational. His most recent releases include Petals (2016); Beautiful Skin (2016); Gettysburg (2018); A Sun Drenched Elsewhere (2019); Ride the Sky (2019); Grace Rider (2020); Islands (2020) and Islands II (2021) co-authored with Patrick Craig). Up and Coming: Islands III, completing the WW2 trilogy; Beyond the Red Hills (the stories of three American families 1945-1968); The Sunflower Season, a novella of Russia and Ukraine; On A Blue, stories I confess to strangers on airplanes; and The Storm Riders, a novel of Texas and the West in 1866.
Murray has traveled extensively and lived abroad including such places as: Scotland and the UK; Ireland; France; Belgium; Holland; Germany; Switzerland; Austria; Czech Republic; Slovenia; Italy; Greece; Israel; Egypt; Iran; Afghanistan; Pakistan; Nepal; India; California; and New Mexico.
He also writes under the name:
Murray Andrew Pura
No results
We couldn't find a match for these filters.
Please try another choose.