Nancy Gibbs
< Back to author list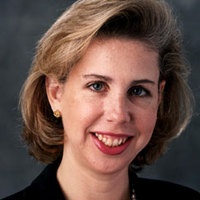 Nancy Gibbs is the author of nearly 100 TIME cover stories, including four "Person of the Year" essays and dozens of stories on the 1998 impeachment fight and the 1996 and 2000 presidential campaigns. She wrote TIME's September 11th memorial issue as well as weekly essays on the unfolding story and its impact on the nation. Ms. Gibbs's article "If You Want to Humble an Empire..." won the Luce Awards' 2002 Story of the Year and the Society of Professional Journalists' 2002 Sigma Delta Chi Magazine Writing Award.
Ms. Gibbs joined TIME in 1985, first in the International section. She then wrote feature stories for five years before joining the Nation section.
She graduated in 1982 from Yale, summa cum laude and Phi Beta Kappa, and also earned a degree in politics and philosophy from Oxford University. In 1993 she was named Ferris Professor of Journalism at Princeton University, where she taught a seminar on Politics and the Press. Her writing is included in the Princeton Anthology of Writing, edited by John McPhee and Carol Rigolot.