Nancy Marie Brown
< Back to author list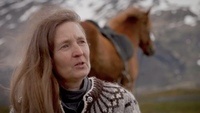 My books combine extremes: Science and sagas. Science and faith. History and fantasy. They ask, What have we overlooked? Whose story must not be forgotten? For 20 years, I worked as a science writer at Penn State University. Now I write from a farm in Vermont, where the days are quiet and cool. Four Icelandic horses graze outside my windows, and every summer I travel to Iceland in search of adventure--and inspiration.
In my newest book,
The Real Valkyrie,
I combine modern archaeology and medieval sagas to uncover the hidden history of Viking warrior women.
In 2017, DNA tests revealed that the bones in a weapons-filled grave long considered the ultimate Viking warrior burial were those of a woman. Who was this warrior woman, buried in grave Bj581 outside the Swedish town of Birka sometime between 913 and 980? Who might she have met in her short, but adventurous lifetime? To tell her story, all I have are her bones and what was unearthed with her--but they are eloquent witnesses.
Hers is a story not to be forgotten.