Nick James
< Back to author list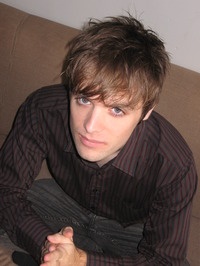 I grew up in the small island town of Anacortes, Washington, where an active imagination was often a prerequisite for a good time. No shopping malls, no movie theater, etc, etc. My first brush with publishing was in third grade, where we were encouraged to not only write stories, but to publish, bind and present them. I think the teacher got more than she bargained for because I was soon amassing quite a personal library of colored-paper bound sagas.
As a kid, I was a voracious reader of comic books. Of course, they didn't sell them anywhere in little Anacortes, so it was a thirty-mile drive "off island" to get them. At that age, it wasn't even about the pictures. It was one hundred percent the stories. I was always attracted to the big drama and dialogue.
I started writing seriously when I entered college. Five "practice" novels later (some weirder than others) and I started querying what was to become Skyship Academy. Then I was lucky enough to find a fantastic publisher in Flux. And next comes the moment when I get to share my debut novel with readers!