Nicola A. Maclin
< Back to author list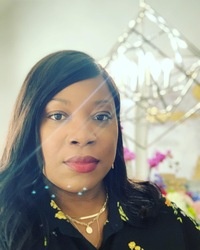 Nicola A. Maclin is a proven Prophet who operates with authenticity as she ministers and teaches, giving clear and direct prophetic input to leaders, equipping the body of Christ to better hear from God and to apply His revelation to transform lives and communities.
Nicola is passionate about helping people develop intimacy with God and activate their prophetic hearing to recognize when God is speaking in everyday life. She is driven to see people set free and walking in the spiritual prosperity Christ has for them.
Nicola is a native Jamaican and retired United States Army Chief Warrant Officer Four. Aside from being committed to her destiny, she considers her most significant contribution and achievement being a wife and a mother.
Together with her husband, Apostle J.L. Maclin, she Oversees the dynamic and spirit-filled Acts Fellowship in Boerne, Texas. They have five children and reside in Texas.
Follow my Amazon Author page new book release:
https://www.amazon.com/Nicola-A.-Macl...
No results
We couldn't find a match for these filters.
Please try another choose.