Nikolai Gogol
< Back to author list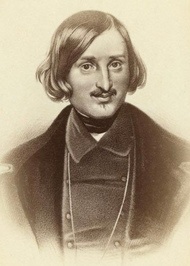 Nikolai Vasilevich Gogol was a Ukrainian-born Russian writer. Although many of his works were influenced by his Ukrainian heritage and upbringing, he wrote in the Russian language and his works are among the most beloved in the tradition of Russian literature.
Gogol is seen by most critics as the first Russian realist. His biting satire, comic realism, and descriptions of Russian provincials and petty bureaucrats influenced later Russian masters Leo Tolstoy, Ivan Turgenev, and especially Fyodor Dostoyevsky. Many of Gogol's witty sayings have since become Russian maxims.
Gogol was one of the first to use the techniques of surrealism and the grotesque in his works (
The Nose
,
Viy
,
The Overcoat
,
Nevsky Prospekt
).
His early works, such as
Evenings on a Farm Near Dikanka
were influenced by his Ukrainian upbringing, Ukrainian culture and folklore. His later writing satirised political corruption in the Russian Empire (
Dead Souls
).
For goodread's profile in Russian, see
Николай Васильевич Гоголь