Nisha Sharma
< Back to author list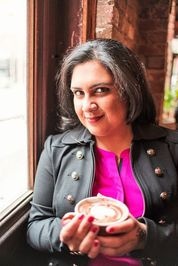 Nisha Sharma is the author of the critically acclaimed YA novel My So-Called Bollywood Life, and the follow-up novel Radha and Jai's Recipe for Romance. She is also the author of adult contemporary romances such as The Singh Family Trilogy, and If Shakespeare was an Aunty trilogy (March 2022). Her writing has been praised in NPR, Cosmopolitan, Teen Vogue, Buzzfeed, Hypable and more. You can find her online at nisha-sharma.com or on Twitter and Instagram at @nishawrites.
_________________________________
A few things...
Hi everyone! I no longer read direct messages on Goodreads, but feel free to send a question through the Goodreads Ask The Author section! You can also find me on Twitter and Instagram and TikTok @nishawrites, and of course, through my website contact page
www.nisha-sharma.com
In regards to my review policy, I'm excited about great stories, but I'm exuberant about stories that my friends write. That should provide sufficient enough insight into my review policy.
Also, please don't be offended if we aren't friends on Goodreads. Not because I don't want to be your friend because obviously I do, but because I literally become a ball of freakish nerves if friends are reading my book and notifications start popping up in my feed. It's better if those notifications and reviews about my books are seen by other readers, not by me. (Still love you, though.)
No results
We couldn't find a match for these filters.
Please try another choose.