Norman Lindsay
< Back to author list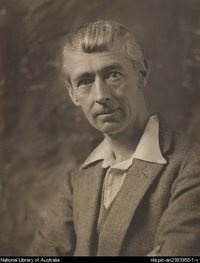 Norman Alfred William Lindsay was an Australian artist. Lindsay was born in Creswick, Victoria. He was a prolific artist, sculptor, writer, editorial cartoonist and scale modeler, as well as being a highly talented boxer.
Norman was the son of Irish surgeon Robert Charles William Alexander Lindsay and Jane Elizabeth Lindsay from Creswick. Fifth of ten children, he was the brother of Percy Lindsay (1870-1952), Lionel Lindsay (1874-1961), Ruby Lindsay (1885-1919), and Daryl Lindsay (1889-1976).
He married Catherine (Kate) Agatha Parkinson, in Melbourne on 23 May 1900. Their son Jack was born, in Melbourne, on 20 October 1900, followed by Raymond in 1903 and Phillip in 1906. They divorced in 1918. Phillip died in 1958 and Raymond in 1960. In the Lindsay tradition, Jack would be prolific as a publisher, writer, translator and activist.
Rose Soady began modelling for Norman in 1902. She would become his second wife, his most recognizable model, his business manager, and the printer for most of his etchings. By the time he left for London in 1909, Rose had supplanted his wife and joined him there in 1910.
He married Rose Soady on 14 January 1920. Their children, Janet and Helen (Honey) were born in 1920 and 1922 respectively. Honey would remain in the U.S. after visiting with her mother to cache her father's works at the beginning of World War II and Jane would acquire the printmaking studio on the Faulconbridge property in 1949 and build a house around it.
He is widely regarded as one of Australia's greatest artists, producing a vast body of work in different media, including pen drawing, etching, watercolour, oil and sculptures in concrete and bronze.
A large body of his work is housed in his former home at Faulconbridge, New South Wales, now the Norman Lindsay Gallery and Museum, and many works reside in private and corporate collections. His art continues to climb in value today. In 2002, a record price was attained by his oil painting, Spring's Innocence, which sold to the National Gallery of Victoria for $AU333,900.
No results
We couldn't find a match for these filters.
Please try another choose.