Patricia Hickman
< Back to author list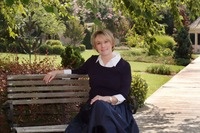 "Hickman gamely unpacks the lies families tell each other, the cost of family secrets to ourselves and others, the bonds between sisters and the walls between husbands and wives. Her sparkling talent is evident in this engrossing story." ~ Publishers Weekly
Best-selling novelist Patricia Hickman has written 18 books for major publishers like Random House and Hachette Books.
A note from me, the author: Hey! My latest teen fiction title is TINY DANCER, a coming of age story for sophisticated readers of young adult fiction—maybe you!
I love good food, taking road trips, hiking, and biking, but most of all writing you new stories you'll fall in love with. You can visit me here at Goodreads, through my official FB author page, or my website at patriciahickman.com.