Paul T. Penley
< Back to author list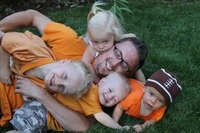 I have had a fast-paced life from day one. I've lived all over the U.S. and travelled around the world. I've been a professor, ghost writer, scholar, varsity soccer coach, philanthropic advisor, speaker, author, auto mechanic, and janitor (that was my character-building job in high school!). I studied Greek, Hebrew and Aramaic as I explored the art and science of interpreting Scripture in undergraduate and post-graduate degrees. Then, I picked up German and French and travelled to Israel, Egypt, Turkey and Greece as I completed a Ph.D. from Trinity's Divinity School. I've presented my biblical and historical research in college courses and national scholars' meetings, at Sunday school classes and church retreats, at Bible conference centers and small groups. I've worked philanthropically in Uganda, Kenya, Kosovo, Mexico, Bolivia, and beyond. I've presented strategies for effective giving for the Philanthropy Roundtable, Alliance magazine, the Association of Small Foundations blog and Outcomes magazine. I have spent years analyzing best practices among nonprofits and designing systems for measuring outcomes. I thrive on figuring things out and making informed decisions. Both my academic and popular writing should reflect that analytical and practical combination of values. I hope my learning and life benefit you as you read the words I've written.
No results
We couldn't find a match for these filters.
Please try another choose.