Pauline Baynes
< Back to author list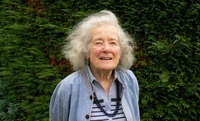 Pauline Diana Baynes was an English book illustrator, whose work encompassed more than 100 books, notably those by C.S. Lewis and J.R.R. Tolkien. Pauline is probably best known for her illustrations in
The Chronicles of Narnia
by C.S. Lewis. She was also J.R.R. Tolkien's chosen illustrator: her drawings appear in
Farmer Giles of Ham
,
The Adventures of Tom Bombadil
,
Smith of Wootton Major
,
Tree and Leaf
, and after Tolkien's death the poem
Bilbo's Last Song
.
Pauline Baynes began her career with little formal training. After spending her early years in India, where her father was commissioner in Agra, she and her elder sister came to England for their schooling. When their father retired, their parents settled near Farnham in Surrey and Pauline, as the unmarried daughter, found herself looking after them during the day and trying to illustrate at night.
Pauline attended the Slade School of Fine Art, where her sister was completing a diploma course, but after only a year she volunteered to work for the Ministry of Defence, painting camouflage. However, since her kind of attention to detail and accuracy were skills essential for map-making, she was soon transferred to another department to draw maps. This experience was very helpful when she later drew maps of Narnia for Jack, and of Middle-earth for his friend J.R.R. Tolkien.
Over the years Pauline Baynes created many new illustrations for use on book jackets, as well as colouring the original illustrations. In 1989, she made a series of full-page colour paintings for two books, one called
The Land of Narnia
, and the other a beautiful, deluxe version of
The Lion, The Witch and The Wardrobe
.
She was awarded the prestigious Kate Greenaway Medal in 1968 in recognition of her outstanding contribution to children's illustration.