Perry Ennis
< Back to author list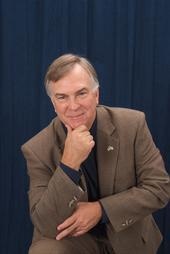 Perry had humble beginnings, growing up on a family farm in rural Johnston County, North Carolina. He graduated from High School in 1970 and went to college in Orlando, FL pursuing a degree that would prepare him to become a Collegiate swimming coach. Shortly after moving to Orlando the school closed due to loss of attendance and Perry moved back to NC. At that time, he decided to forgo college and began working in commercial construction.
In 1972, Perry had a life changing experience. He encountered the Creator through a course of events that literally saved his live. Following several miraculous events, he hugged tight to the Creator. He was now set for a pure spiritual journey of faith, anticipating the special bond and growing personal relationship with the Creator of the universe. Soon, his passion spread, and he became particularly interested in the prophecy Scriptures, relating to the first and second coming of Messiah.
For the next 26 years, Perry's passion spread to an obsession. He just couldn't get enough of the prophesies.
In 1993, Creator impressed upon Perry the work that had to be written.
But first, many questions needed to be answered:
- Who is the Creator of the universe?
- How can I understand Him better?
- What are the prophecies that relate to His coming to this earth to establish His great kingdom?
- How can people begin to prepare for the very difficult times that the end of days prophecies reveal about the events of the last few years of this age as we know it?
Perry knew how difficult this book would be to create. These were no simple questions to be answered. His resistance continued for six years, until January of 1999 when he set out to fulfill God's request and create a detailed book, "Prepare for the Coming of Messiah".
All through the power of our Creator, with the text of the book completed, Perry then started the company Menorah Books, LLC to publish, "Prepare for the Coming of the Messiah".
Today, Perry aggressively promotes, "Prepare for the Coming of the Messiah" through his website:
www.messiahiscoming.net
and is thrilled to know his readers are receiving God's grace—the powerful messages of love, restoration, warning, and hope.