Peter M. Wallace
< Back to author list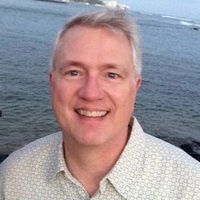 Peter Marsden Wallace is executive producer and host of the Day1 ecumenical radio and internet ministry (
http://day1.org
) and president of the Alliance for Christian Media, based in Atlanta, Georgia.
Peter is the author of several books, including the forthcoming A Generous Beckoning: God's Gracious Invitations to Authentic Spiritual Life (Forward Movement, 2023); Getting to Know Jesus (Again): Meditations for Lent (Church Publishing, 2017); The Passionate Jesus: What We Can Learn from Jesus about Love, Fear, Grief, Joy and Living Authentically (SkyLight Paths Publishing, 2012); Connected: You and God in the Psalms (Morehouse, 2009); and Living Loved: Knowing Jesus as the Lover of Your Soul (Seabury, 2007). He is also the editor of Bread Enough for All: A Day1 Guide to Life (Church Publishing, 2020); Heart and Soul: The Emotions of Jesus (Church Publishing, 2019); and Faith and Science in the 21st Century: A Postmodern Primer (Church Publishing, 2018). He also wrote a memoir, Comstock & Me: My Brief But Unforgettable Career with The West Virginia Hillbilly (Amazon, 2020). He has contributed to numerous books, study Bibles, devotional guides, magazines, teaching curriculums, video series, online blogs, and other resources.
Peter served as editorial director for Walk Thru the Bible Ministries from 1984 to 1990, then was senior copywriter and broadcast producer for Larry Smith & Associates Advertising & Design in Atlanta for eleven years, before joining The Protestant Hour/Day 1 organization in March 2001. The organization merged in July 2004 with the Episcopal Media Center to create a new ecumenical media organization, the Alliance for Christian Media.
Peter earned a bachelor's degree in journalism/advertising from Marshall University, Huntington, West Virginia, and a Master of Theology degree with honors from Dallas Theological Seminary, Dallas, Texas. he took Episcopal Studies at Candler School of Theology at Emory University. He has been a confirmed member of the Episcopal Church since 1991 and is presently serving as a priest in the Diocese of Atlanta.
No results
We couldn't find a match for these filters.
Please try another choose.