Peter Noble
< Back to author list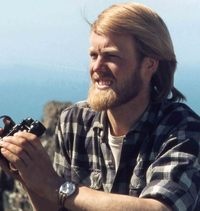 Peter Noble was born in 1943 in the manufacturing town of Pudsey, Yorkshire. After attending the local grammar school (where his most significant achievement was joining the "Adventure Club" a year before being eligible) he drifted into Teacher Training College and three years later, back into school. His first year in a London comprehensive convinced him that he was in need of something new, something completely different and preferably something outdoors.
Teenage climbing experience on his native Yorkshire crags had led to climbing holidays in many parts of Britain plus Norway and the Alps so he applied for and secured a job with the British Antarctic Survey as a General Assistant/Mountaineer. In 1966 he sailed south for a two year tour of duty at Halley Bay, one of six British survey stations and the only one to be built on floating ice.
During the building of a new base at Halley Bay, new skills were added to his repertoire - electrician, plumber, decorator, carpenter, baker - but it was driving dog sledges over the ice cap that fired his imagination. After learning the basic skills he and three colleagues were left several hundred miles from base, with two dog teams, to reconnoitre a route to the remote Shackleton Mountains.
The following year Peter was invited to lead a tractor expedition along the reconnoitred route, an expedition that proved to be the longest and heaviest tractor journey ever undertaken by the British Antarctic Survey.
On return to England, Peter never did go back to the classroom, at least not the indoor one, preferring to work in outdoor education in the Lake District, Snowdonia and finally heading up a then new Outdoor Pursuits Centre in Derbyshire. On formal retirement he travelled widely - Peru, Zimbabwe, Mexico, Central Australia, Tibet, Namibia… either with his wife Jenny or leading young people's expeditions. Peter and Jenny now live in Marlborough, Wiltshire