Poul Anderson
< Back to author list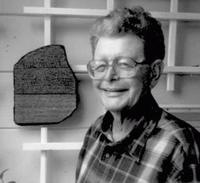 Pseudonym A. A. Craig, Michael Karageorge,
Winston P. Sanders
, P. A. Kingsley.
Poul William Anderson was an American science fiction author who began his career during one of the Golden Ages of the genre and continued to write and remain popular into the 21st century. Anderson also authored several works of fantasy, historical novels, and a prodigious number of short stories. He received numerous awards for his writing, including seven Hugo Awards and three Nebula Awards.
Anderson received a degree in physics from the University of Minnesota in 1948. He married Karen Kruse in 1953. They had one daughter, Astrid, who is married to science fiction author Greg Bear. Anderson was the sixth President of Science Fiction and Fantasy Writers of America, taking office in 1972. He was a member of the Swordsmen and Sorcerers' Guild of America, a loose-knit group of Heroic Fantasy authors founded in the 1960s, some of whose works were anthologized in Lin Carter's Flashing Swords! anthologies. He was a founding member of the Society for Creative Anachronism. Robert A. Heinlein dedicated his 1985 novel
The Cat Who Walks Through Walls
to Anderson and eight of the other members of the Citizens' Advisory Council on National Space Policy.[2][3]
Poul Anderson died of cancer on July 31, 2001, after a month in the hospital. Several of his novels were published posthumously.
Series:
*
Time Patrol
*
Psychotechnic League
*
Trygve Yamamura
*
Harvest of Stars
*
King of Ys
*
Last Viking
*
Hoka
*
Future history of the Polesotechnic League
*
Flandry