R. Maurice Smith
< Back to author list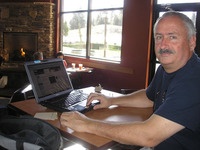 I am a graduate of the University of North Carolina at Chapel Hill where I studied Classics (Greek) and began my career as a "Campus Christian Radical" during the Jesus Movement by helping lead a campus-wide spiritual awakening (starting in 1975). After graduation I served on the staff of Campus Crusade for Christ for a couple of years and helped design their School of Theology. More importantly I met the love of my life, Gale, there. We've been married now for 35 years.
I attended Denver Baptist Seminary where I studied Christian apologetics under Gordon R. Lewis and Bruce Demarist. While there I was asked to serve as adjunct faculty and redesign and run their Department of Field Education. I also served on the staff of Bear Valley Baptist Church under the ministry of Frank Tillapaugh.
After seminary Gale and I moved to her home town of Spokane, WA where we have lived since 1982 and have raised two great kids. Our son is a successful web designer and our daughter is a youth pastor. I made the mistake of going into business rather than ministry and spent the next 15 years going broke doing something I was never gifted for or called to. But in the Kingdom of God it is never a mistake to discover what God has NOT called you to do. In 1996 God surprised me with a two-fold call. First, to fast and pray for revival and spiritual awakening, and, second, to write a book on the Welsh Revival of 1904. That book (When The Fire Fell: The Great Welsh Revival of 1904 And It's Meaning for Revival Today), along with God's call to fast and pray for revival, became our call back into ministry. Since then, I have written two additional books on the theme of revival: "Preparing For The Coming Spiritual Outpouring" (a collection of newsletters I have written over the past 10 years on the topic of revival)and "When Jesus Visit's His Church: A Study of The Seven Church of Asia" (Kindle format only right now).
Since 2001 Gale and I have labored in the organic house church movement, and this is clearly reflected in my books, starting with my first book on organic house church, "You Wanna Do What?!: Straight Answers To Your Most Frequently Asked Questions About House Church." My artistically talented better half did the illustrations (You can view her art work at
www.artcreationsbygale.com
).
Following that first book on organic church, I wrote a series of three books on the topic of organic house church. The series is called "Safe Houses of Hope & Prayer." The first book in the series ("River Houses Rising") lays the foundation for the rise of organic house churches. The second book ("Safe Houses of Hope And Prayer") goes deeper into some of the practical aspects of functioning as "the church in your house". The third book ("The Least of These: The Role of Good Deeds In A Jesus-Shaped Spirituality") is a call to ALL Christians to embrace our calling to engage in practical "good deeds", particularly toward the marginalized and those people in need whom Jesus referred to in Matthew 25 as "the least of these".
Another book which arose out of our work with organic house churches is "All Dogs Go To Heaven, Don't They?: Biblical Reflections On Christian Universalism and Ultimate Reconciliation." I became motivated to write this book when my wife and I discovered that friends of ours (and house church practitioners) were wrestling with the issue of "universalism" (is there a literal "hell" or does everyone eventually end up in heaven). I wrote this book because I believe that the issue of Universalism could well become the watershed theological issue of our generation. In the book, I explain why.
Our most recent book is "The Inextinguishable Blaze: God's Call To Holiness, Repentance, Intimacy and Spiritual Awakening." This book laid around like a "burning coal in my pocket" for three years. I am thankful to have it "out of my pocket" and into print. Now it can burn a whole in your pocket!
My current book project (I've just finished a
Books By R. Maurice Smith
Displaying all 3 products