Rabiah York Lumbard
< Back to author list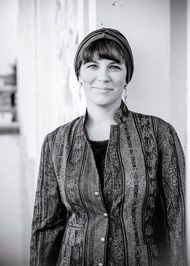 Alexis York Lumbard aka Rabiah York Lumbard is an American Muslim children's book writer whose debut picture book, The Conference of the Birds with illustrations by renowned artist Demi (Wisdom Tales Press, Sept. 2012), is a contemporary retelling of the classic Islamic work by the 13th century poet Farid ad-Din Attar. Her most recent picture book, The Gift of Ramadan, is a heart-centered approach to the Muslim holiday that goes beyond food to the original impulse of the sacred month (Albert Whitman, April 2019). She has several other PB titles including Everyone Prays: Celebrating Faith Around the World, Pine & the Winter Sparrow, and When the Animals Saved Earth--winner of 2015 Middle East Book Award. No True Believers is her upcoming YA debut title, a conspiracy thriller with Crown (Feb 2020). She currently lives in Doha with her husband and three daughters. An active member of SCBWI and a current MFA student at Spalding University, Alexis regularly visits schools, mosques and libraries to share her passion of books, storytelling and the various places she calls home (Doha, Qatar, Washington DC and Nashville, TN). Favorite pastimes include rescuing Arabian Maus and kayaking in the Persian Arabian Gulf.
No results
We couldn't find a match for these filters.
Please try another choose.