Reggie L. Williams
< Back to author list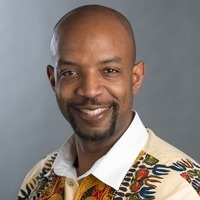 Dr. Reggie Williams (PhD, Fuller Theological Seminary) is Associate Professor of Christian Ethics at McCormick Theological Seminary.
Dr. Williams' research interests include Christological ethics, theological anthropology, Christian social ethics, the Harlem Renaissance, race, politics and black church life. His current book project includes a religious critique of whiteness in the Harlem Renaissance. In addition, he is working on a book analyzing the reception of Bonhoeffer by liberation activists in apartheid South Africa.
Dr. Williams received his Ph.D. in Christian ethics at Fuller Theological Seminary in 2011. He earned a Master's degree in Theology from Fuller in 2006 and a Bachelor's degree in Religious Studies from Westmont College in 1995. He is a member of the board of directors for the Society for Christian Ethics, as well as the International Dietrich Bonhoeffer Society. He is also a member of the American Academy of Religion and Society for the Study of Black Religion.
Books By Reggie L. Williams