Retha Groenewald
< Back to author list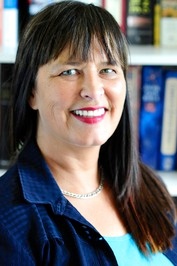 Retha Groenewald, passionate about the Bible since childhood, was a storyteller before she could read or write, which followed soon thereafter. She has degrees in nutrition, business, law, and theology. She is a member of Elim in Durbanville. She lives in Western Cape, in beautiful South Africa.
GROUP - ASK RETHA Groenewald
http://www.goodreads.com/group/show/1...
THE FOUR FACES - fantasy novel
The king continued: "From this day forward we will refer to our four sons as The Four Faces. The future of the kingdom is in the hands of The Four Faces. It's vital that they find the right answer. I don't even want to think of the possibility that they could come back without the answer."
Human, Lion, Ox, and Eagle are sent on a journey to find out what their purpose is. On their quest, they journey through interesting and wonderful places; they meet strangers, friends and foes; they are challenged with the unknown and with themselves. Will they succeed?
The novel is now available in print and ebook from most online bookstores and at a bookstore near you.
Amazon:
http://goo.gl/zUylP
Barnes&Noble:
http://goo.gl/yZAmb
AMAZON AUTHOR PAGE:
http://www.amazon.com/Retha-Groenewal...
BLOGS:
Author blog:
http://rethagroenewald.com
Bible Fascination:
http://www.biblefascination.com
Discover Bible Treasures:
http://www.discoverbibletreasures.com
FACEBOOK PAGES:
Author page:
http://facebook.com/Retha.author
Bible Fascination Page:
http://facebook.com/BibleFascination
Discover Bible Treasures Page:
http://facebook.com/DiscoverBibleTrea...
Personal page:
http://facebook.com/retha/groenewald.56
GOOGLE+:
https://plus.google.com/u/0/106803855...
HUBPAGES:
http://rgmg50.hubpages.com/
LINKEDIN:
http://za.linkedin.com/in/rethagroene...
PINTEREST:
http://pinterest.com/rgmg50/
TWITTER:
http://twitter.com/rethatweet
No results
We couldn't find a match for these filters.
Please try another choose.