Rigel J. Dawson
< Back to author list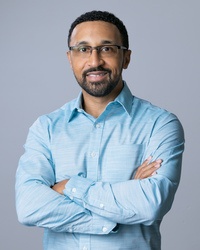 Rigel J. Dawson has been teaching God's word for over twenty years, and is blessed to pastor the Family of Faith church in Flint, Michigan. He's the author of The Pastor Is In: A Thirty-Day Faith Devotional Inspired by Peanuts and Dad Most High: Revolutionizing Your Relationship with God. Rigel's website plantedtrees.com provides inspiring and encouraging content aimed at helping believers walk in their victory.
Rigel is passionate about the spiritual growth that comes from learning God's love and coming into an ever-deepening relationship with God the Father. In a way that is both simple and profound, His writing manifests his belief that the Christian life should be full of extraordinary peace and joy that grows out of a personal walk with God.
Rigel has been married to his amazing wife since 2003, and they have two wonderful children. For some reason, Rigel likes to think that he could lift Mjolnir if given the chance. Or, at the very least, move it a little.
You can follow @rigeljdawson on Facebook, Twitter, Instagram, and Pinterest.
Books By Rigel J. Dawson
Displaying all 2 products