Robert Bloch
< Back to author list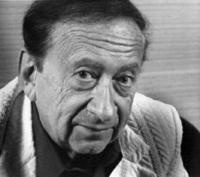 Robert Albert Bloch was a prolific American writer. He was the son of Raphael "Ray" Bloch (1884, Chicago-1952, Chicago), a bank cashier, and his wife Stella Loeb (1880, Attica, Indiana-1944, Milwaukee, WI), a social worker, both of German-Jewish descent.
Bloch wrote hundreds of short stories and over twenty novels, usually crime fiction, science fiction, and, perhaps most influentially, horror fiction (
Psycho
). He was one of the youngest members of the Lovecraft Circle; Lovecraft was Bloch's mentor and one of the first to seriously encourage his talent.
He was a contributor to pulp magazines such as
Weird Tales
in his early career, and was also a prolific screenwriter. He was the recipient of the Hugo Award (for his story "That Hell-Bound Train"), the Bram Stoker Award, and the World Fantasy Award. He served a term as president of the Mystery Writers of America.
Robert Bloch was also a major contributor to science fiction fanzines and fandom in general. In the 1940s, he created the humorous character Lefty Feep in a story for
Fantastic Adventures
. He also worked for a time in local vaudeville, and tried to break into writing for nationally-known performers. He was a good friend of the science fiction writer Stanley G. Weinbaum. In the 1960's, he wrote 3 stories for
Star Trek
.
No results
We couldn't find a match for these filters.
Please try another choose.