Robert McCloskey
< Back to author list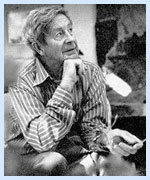 John Robert McCloskey (September 15, 1914 – June 30, 2003) was an American writer and illustrator of children's books. He both wrote and illustrated eight picture books and won two Caldecott Medals from the American Library Association recognizing the year's best-illustrated picture book. Four of those eight books were set in Maine: Blueberries for Sal, One Morning in Maine, Time of Wonder, and Burt Dow, Deep-water Man; the last three all on the coast. He was also the writer for Make Way For Ducklings, as well as the illustrator for The Man Who Lost His Head.
McCloskey was born in Hamilton, Ohio, during 1914 and reached Boston in 1932 with a scholarship to study at Vesper George Art School. After Vesper George he moved to New York City for study at the National Academy of Design.
In 1940, he married Peggy Durand, daughter of the children's writer Ruth Sawyer. They had two daughters, Sally and Jane, and settled in New York State, spending summers on Scott Island, a small island off Little Deer Isle in East Penobscot Bay. McCloskey's wife and eldest daughter Sally are reputed to be the models for little Sal and her mother in Blueberries for Sal (1948), a picture book set on a "Blueberry Hill" in the vicinity. Three others of his picture books are set on the coast and concern the sea.
Peggy died in 1991. Twelve years later on June 30, 2003, McCloskey died at his home in Deer Isle, Maine.