Russell D. Moore
< Back to author list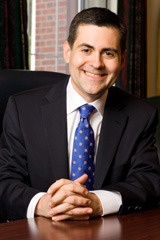 Russell D. Moore is President of the Southern Baptist Ethics & Religious Liberty Commission, the Southern Baptist Convention's official entity assigned to address social, moral, and ethical concerns.
Dr. Moore earned a B.S. in history and political science from the University of Southern Mississippi. He also received the M.Div. in biblical studies from New Orleans Baptist Theological Seminary, and the Ph.D. in systematic theology from The Southern Baptist Theological Seminary.
He blogs frequently at his "Moore to the Point" website, and is the author or editor of five books, including Tempted and Tried: Temptation and the Triumph of Christ, Adopted for Life: The Priority of Adoption for Christian Families and Churches, and The Kingdom of Christ: The New Evangelical Perspective. In addition to these, Dr. Moore is also the author of dozens of academic articles and essays within the field of systematic theology and Christian ethics. He also serves as Senior Editor of Touchstone: A Journal of Mere Christianity.