Ruth Chou Simons
< Back to author list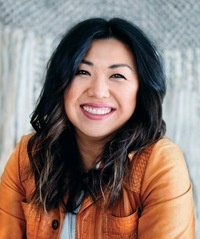 Ruth Chou Simons is a bestselling author, entrepreneur, and speaker. She shares her journey of God's grace intersecting daily life with word and paintbrush through an online shoppe at GraceLaced.com and her Instagram community of more than a hundred thousand.
Ruth is an unlikely mom to six young boys and wife to Troy, with whom she leads GraceLaced's small but mighty team. When not painting, writing, and casting vision for GraceLaced.com, Ruth is usually busy eating chips and salsa, sorting laundry, cooking for large crowds, not finishing her sentences, and discovering off-beaten paths in the wild with her guys. She is a devotee of pho, a recovering perfectionist, a converted four-wheeling enthusiast, and a grateful beholder of redeeming Grace.
Ruth's first book, "GraceLaced", won a 2018 Christian Book Award.