Sabiha Sertel
< Back to author list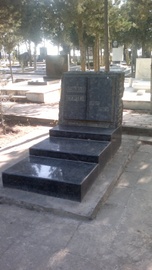 Sabiha Sertel (born 1895, Salonika, Ottoman Empire—died 1968, Baku, Azerbaijan, USSR) was the first professional female journalist and publisher in modern Turkey. Sertel's articles and columns advocated for reforming the rights of women and workers and criticized state oppression, imperialism, fascism and social inequalities in Turkey. Her high-profile activism for democracy, civil liberties and a free press resulted in social and political pressure, censorship, imprisonment and ultimately, exile. Sertel is considered the first to publicly marry outside the dönme community, Jews who converted to Islam in the 17th century but privately retained their beliefs and were viewed with suspicion by Moslems. She was the first Turkish woman to be tried in court and imprisoned for her writings. She also was one of the first Turkish women to die in political exile. Her marriage in 1915 to Zekeriya Sertel, a leading figure in the history of the Turkish press, began a lifelong publishing partnership. Their publications Büyük Mecmua (The Big Review), Resimli Ay, (Illustrated Monthly magazine) and the newspaper Tan (Dawn), served as powerful platforms for opposition voices. On 4 December 1945, a government-orchestrated mob of thousands destroyed the Sertels' publishing house. In Sertel's autobiography Roman Gibi (Like a Novel), she chronicles the destruction, leading to their imprisonment and ultimately, exile. The book, written in 1968 from exile shortly before her death, originally was banned in Turkey. Over 50 years later, Roman Gibi was translated for an international audience. The Struggle for Modern Turkey: Justice, Activism and a Revolutionary Female Journalist (I.B. Tauris June 2019), introduced English readers to Sertel's story for the first time.
No results
We couldn't find a match for these filters.
Please try another choose.