Scott Harris
< Back to author list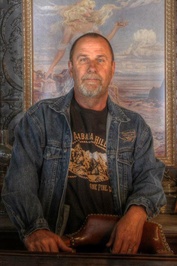 Award-winning and best-selling Western author Scott Harris is a lifelong Western enthusiast who traces his love of Western fiction back to his childhood days of reading Louis L'Amour novels.
Harris has published ten novels in the past year, along with two collections of short stories and a variety of other fiction and nonfiction Westerns.
The Brock Clemons Western Series follows the tale of Brock Clemons and his journey into the West accompanied by his horse, "Horse," and wolf, "Wolf." The Brock Clemons story — especially when he is joined by his new wife, Sophie and his adopted son, Huck — is one of bravery, adventure and romance, transporting readers back to a time when chivalry, courage and gunfights ruled the day in the West.
Harris' second series, Caz: Vigilante Hunter, is a different take on the Western genre. With gun in hand, Caz blasts his way through the bad guys to bring peace and justice to the Old West!
Caz is looking for two things: the perfect breakfast and men who think they're above the law. He hasn't yet found a breakfast to match what his mom used to make, but there's a trail of dead men behind him that shows he's having no trouble finding bad men.
Harris also authors the well regarded 52 Weeks Series, the Western Adventure Series and the 500 Word Micro Short Series. Additionally, he is about to release A Novel Journey, a non-fiction book about writing your own Western novel and recently released Six Gun Pardners, a book a he co-authored with his son, Justin. He is also soon releasing the first novel in his newest series, Stagecoach Willy.
Harris, who loves nothing more (except for his family!) than settling into his hammock with a glass of bourbon, a cigar and a great Western, has created a Western world filled with fascinating and exciting characters and he hopes you enjoy reading about them as much as he does writing about them.
Enjoy!