Selina O'Grady
< Back to author list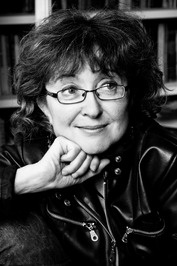 I was brought up in London by very religious parents. My father was a strict Irish Catholic; we had an altar in our house and prayed every night before the statue of the Virgin Mary. My mother was Jewish, but as a young woman had joined what would probably now be considered a cult, living in a kind of commune in New Jersey under the spiritual guidance of the Russian esotericist Ouspensky. Although she converted to Catholicism when she married my father, she remained wedded to Ouspensky's teachings. I lost my belief in God when I was a child but have always remained sympathetic to, and fascinated by, religious belief and the longing for the transcendent.
I have co-edited two books, Great Spirits: The Fifty-Two Christians Who Most Influenced Their Millennium (a series of essays on men and women ranging from Bach to Martin Luther King), and A Deep but Dazzling Darkness, an anthology from Anglo-Saxon to modern times of the experience of belief and disbelief. I also worked in television and radio, including as a producer for BBC 1's moral documentary series Heart of the Matter, presented by Joan Bakewell, and a producer on Radio 4's history series Leviathan.
My spur to beginning writing was reviewing works of history for the Tablet, the San Francisco Chronicle (I lived in that fabulous city for three years), and the LIterary Review. From writing those reviews, I learned what I think makes a good and enjoyable history book: it is the combination of the big causal picture - why something happens - fleshed out with the bits of gossipy, visceral detail that the reader will always enjoy and remember when all the dates have flown out of the window. I hope you will find this combination in And Man Created God.
http://us.macmillan.com/author/selina...
Books By Selina O'Grady
Displaying all 2 products