Shannon Huffman Polson
< Back to author list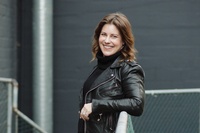 Shannon Huffman Polsons the author of The Grit Factor: Courage, Resilience and Leadership in the Most Male Dominated Organization in the World (Harvard Business Review Press 2020) and North of Hope: A Daughter's Arctic Journey. (Zondervan/Harper Collins, 2013). She writes in all genres exploring the ideas of borders.
Polson's book, The Grit Factor, a synthesis of lessons and stories from three years of interviews of women general officers, fighter pilots, submariners and others was published by Harvard Business Review Press in September 2020, and has been awarded an Axiom Book Award.
Her first book, North of Hope, was released in 2013 by Zondervan/Harper Collins. In 2015 Polson released The Way the Wild Gets Inside: Field Notes from Alaska, a slim volume of essays. Her first fiction is included in the anthology The Road Ahead, published in early 2017. Polson's essays and articles appear in a number of literary magazines and periodicals, including honorable mention in the 2015 VanderMey Nonfiction Contest (an essay later republished in the Utne Reader) and an excerpt from her working manuscript, Some/One in the fall issue of River Teeth Journal. Her work is anthologized in More Than 85 Broads.
Polson was born in Anchorage, Alaska, and grew up loving the outdoors. After studying English Literature at Duke, she headed from the ivory tower to the tarmac of Ft. Rucker, AL, where she flew Apaches in the first crop of women attack helicopter pilots. An MBA at the Tuck School at Dartmouth transitioned her to five years in marketing at two companies. Now she's back in the books, and back in love. Polson has scuba dived on three continents, sky dived on two, and climbed the highest mountain in North America and Africa.
When she's not writing, she speaks to corporate and social audiences around the country on leadership, storytelling and GRIT as well as running The Grit Institute, an online training development platform dedicate to ethical and people-centered leadership and the whole-leader concept.
Other times she can be found in the mountains of Washington and Alaska with her husband and sons, working to build a new library in her small community (winthroplibraryfriends.org), and lay leading an Episcopal church start-up. In 2009 Polson was awarded the Trailblazer Woman of Valor award by Senator Maria Cantwell. Polson earned her MFA in Creative Non-fiction from Seattle Pacific University in August of 2012.
Find Polson at
www.twitter.com/aborderlife
and on Facebook:
www.facebook.com/ShannonHuffmanPolson
Books By Shannon Huffman Polson
Displaying all 2 products