Shelley Black
< Back to author list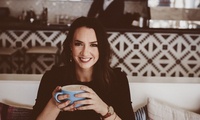 My name is Shelley Black.
I am in my 30's. Never married. No kids. I just knew I'd be the girl to get married young and have kids young and…well, I'm not the "young" I thought I would be. So, I let my life settle into a holding pattern waiting on that one dream to meet Mr. Right and get married.
Even though I was raised by Christian parents and grew up involved in the local church, I became broken because I identified with my singleness and it changed my perception of God. Because of all those years that my hope was deferred, I felt rejected by Him, so lacked the ability to trust Him. My heart got cold and hard and though I was still a "good Christian girl" I was really hurting.
Through the Word, prayer, worship and discipleship He has healed my heart of so many things through the years and has brought me to a place where I am now #savoringsingle. I gotta tell you, it's so much better from the perspective of hope and trust! There's a way to be genuinely happy, find purpose & enjoy this wonderful life we have….in every season!