Sherwood Anderson
< Back to author list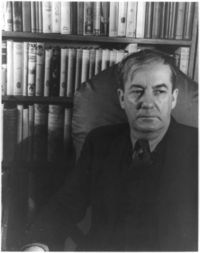 Sherwood Anderson was an American writer who was mainly known for his short stories, most notably the collection
Winesburg, Ohio
. That work's influence on American fiction was profound, and its literary voice can be heard in Ernest Hemingway, William Faulkner, Thomas Wolfe, John Steinbeck, Erskine Caldwell and others.
From
PBS.org
:
Sherwood Anderson, (1876-1941), was an American short-story writer and novelist. Although none of his novels was wholly successful, several of his short stories have become classics. Anderson was a major influence on the generation of American writers who came after him. These writers included Ernest Hemingway, F. Scott Fitzgerald, and William Faulkner. Anderson thus occupies a place in literary history that cannot be fully explained by the literary quality of his work.
Anderson was born on Sept. 13, 1876, in Camden, Ohio. He never finished high school because he had to work to support his family. By 1912, he was the successful manager of a paint factory in Elyria, Ohio, and the father of three children by the first of his four wives. In 1912, Anderson deserted his family and job. In early 1913, he moved to Chicago, where he devoted more time to his imaginative writing. He became a heroic model for younger writers because he broke with what they considered to be American materialism and convention to commit himself to art.
Anderson's most important book is WINESBURG, OHIO (1919), a collection of 22 stories. The stories explore the lives of inhabitants of Winesburg, a fictional version of Clyde, Ohio, the small farm town where Anderson lived for about 12 years of his early life. These tales made a significant break with the traditional American short story. Instead of emphasizing plot and action, Anderson used a simple, precise, unsentimental style to reveal the frustration, loneliness, and longing in the lives of his characters. These characters are stunted by the narrowness of Midwestern small-town life and by their own limitations.
read more
No results
We couldn't find a match for these filters.
Please try another choose.