Sophie Campbell
< Back to author list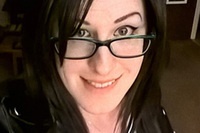 One of the most exciting and talented creators working in comics today, Sophie Campbell has made her mark on IDW books such as
Teenage Mutant Ninja Turtles
and
Jem and the Holograms
.
A graduate of the Savannah College of Art & Design, Campbell began her career writing and drawing independent comics primarily focused on the lives of young women from all walks of life, including
Wet Moon, Shadoweyes
, and
the Abandoned
. She further proved her versatility as an artist when she began drawing the
Teenage Mutant Ninja Turtles
for IDW, where her kinetic action sequences and distinctive character art were a hit with fans and critics alike.
Campbell was brought on as the first artist on the IDW continuing series
Jem and the Holograms
, where she was responsible for the modern redesign of the characters and establishing the unique look of the comic. Her work on
Jem
with writer Kelly Thompson was so well received that the two were profiled by the New Yorker in 2015.
Campbell continues to work on several projects for IDW, as well as her own creator-owned independent comics.