Steve Demme
< Back to author list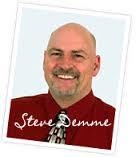 Math-U-See is the flagship product of Demme Learning, an independent family-owned and operated publishing company that began with Steve Demme's passion for helping people understand difficult concepts and desire to promote a lifelong love of learning. His innovative math curriculum Math-U-See has been reaching students for over 20 years with its unique integration of manipulatives and instruction that is focused on concept mastery.
Steve and his wife Sandi imparted their love of learning to their four sons, who are now grown and each involved in the operation of the business. In 2012, a family business transition from the first to the second generation was completed, with Ethan Demme being selected by the board as the new President and CEO of Demme Learning. Steve and Sandi continue to be involved as members of the board of directors.
Based in Lancaster, Pennsylvania, Demme Learning has been providing innovative learning solutions for homeschoolers, parents and small group learning environments since 1990. With the family's commitment to learning and the success of the Math-U-See approach to math instruction, the company's focus has moved beyond math. In the next 12 months, Demme Learning will introduce several new products which are tools to empower parents and reach students with individualized instruction. Learn more about what else is available from Demme Learning, and what's coming next.
(from Demme Learning website)
Books By Steve Demme
Displaying all 9 products