Steven French
< Back to author list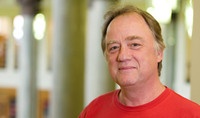 Research Interests:
- Philosophy of Science, especially models and the semantic approach, representation and structural realism
- Philosophy of Physics, especially the metaphysical foundations of quantum mechanics
- History of Physics, especially twentieth century
Steve French is Professor of the Philosophy of Science and his teaching and research interests are in the philosophy of science and the history and philosophy of modern physics. He has recently published a book on structural realism (The Structure of the World: Metaphysics and Representation; OUP 2014) and is currently working on a series of papers on monism, dispositionalism and the relationship between science and metaphysics in general. He is also planning to explore further the connections between the philosophy of art and the philosophy of science with regard to the nature of scientific and artistic objects. At some point he is going to stun the world (or not) with a book on Husserl and the phenomenological approach to quantum mechanics.
Steven is Co-Editor-in-Chief (with Michela Massimi of the University of Edinburgh) of The British Journal for the Philosophy of Science (
http://bjps.oxfordjournals.org/
), one of the most highly regarded journals in the field. He is also Editor-in-Chief of the Palgrave-Macmillan series, New Directions in Philosophy of Science (
www.palgrave.com/products/series.aspx...
).