Steven G. Lightfoot
< Back to author list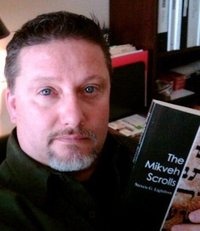 Steven G. Lightfoot draws on his combat experience as a United States Marine and his deeply spiritual relationship with Christ to weave a masterful tale with the ability to transport the reader into the action.
Lightfoot is a writer with a unique sense of observation and the ability to turn his observations into incredibly life-like scenes, using the crafted word as the vehicle for detail. His characters have distinct personalities that cause the reader to become emotionally involved in the story. The reader does not merely read about the characters, but rather builds a relationship with them.
Born in the German Rheinland, Lightfoot spent much of his childhood absorbing European culture. His enthusiasm for history, archaeology and spirituality is deeply rooted in his core and manifests itself in his writing.
Lightfoot credits the depth of his characters to life-experience. His characters' trials and pains are forged in the crucible of Lightfoot's own life. His characters' joys and victories soar on Lightfoot's own triumphant wings.
Lightfoot's most personally celebrated joy is his family. He says, "My beautiful wife, Angela, is my inspiration and my treasure. Together we have six magnificent children, three wonderful sons-in-law, three beautiful grandbabies, and two crazy dogs. Life is never dull around the Lightfoot house!"
No results
We couldn't find a match for these filters.
Please try another choose.