Tennessee Williams
< Back to author list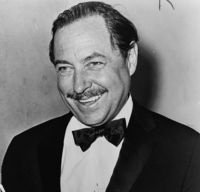 Thomas Lanier Williams III, better known by the nickname Tennessee Williams, was a major American playwright of the twentieth century who received many of the top theatrical awards for his work. He moved to New Orleans in 1939 and changed his name to "Tennessee," the state of his father's birth.
Raised in St. Louis, Missouri, after years of obscurity, at age 33 he became famous with the success of The Glass Menagerie (1944) in New York City. This play closely reflected his own unhappy family background. It was the first of a string of successes, including A Streetcar Named Desire (1947), Cat on a Hot Tin Roof (1955), Sweet Bird of Youth (1959), and The Night of the Iguana (1961). With his later work, he attempted a new style that did not appeal to audiences. His drama A Streetcar Named Desire is often numbered on short lists of the finest American plays of the 20th century, alongside Eugene O'Neill's Long Day's Journey into Night and Arthur Miller's Death of a Salesman.
Much of Williams' most acclaimed work has been adapted for the cinema. He also wrote short stories, poetry, essays and a volume of memoirs. In 1979, four years before his death, Williams was inducted into the American Theater Hall of Fame.
From Wikipedia
Books By Tennessee Williams