T.F. Tenney
< Back to author list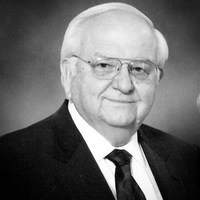 It is impossible to even estimate the number people who have heard T. F. Tenney speak since he began preaching at the age of 16. From conferences and crusades around the globe, to small and large local churches in Louisiana and across our nation, his preaching was anointed, life-changing, and certainly memorable. YouTube has over 5,000 entries with excerpts and sermons by T. F. Tenney. His brilliant mind was surpassed only by his incredible heart. He was a prolific writer, authoring 12 books, with a 13th in process at the time of his demise. He was a wordsmith extraordinaire and the master of one-liners. Though well into his 80s, T. F. Tenney's Twitter account lists his current number of followers at 44.3K.
T. F. Tenney was born on December 6, 1933 to Fred and Jennie Veve Tenney, in DeRidder, Louisiana. He and his older sister, Nelda, were the only Tenney children. He attended his first Pentecostal church service at the age of 16 and almost immediately after his conversion experience began preaching the Gospel.
He married the love of his life, Thetus Caughron, in West Monroe, Louisiana on December 27, 1952.
In February of 1953, the Tenneys (ages 18 and 19) were elected to the pastorate of a newly formed church in Monroe, Louisiana. During this time, his leadership skills were being identified and developed, and he was elected the sectional youth director. From 1954-1960, T. F. Tenney served as the Youth President of the Louisiana District United Pentecostal Church. His leadership and administrative skills took him from District service, to the position of International Youth President, where he served from 1960-1969. This took the Tenneys to St. Louis, Missouri where the UPCI Headquarters is located. In January 1970, T. F. Tenney assumed the office of Foreign Missions Director. This job was the perfect match for his love for God and the Gospel, and his burden to see that Gospel shared with the world - along with his love for travel and his keen interest in seeing the world.
In late 1975, the Tenneys relocated from St. Louis back "home" - to DeRidder, Louisiana where they served for three years as pastor of the First Pentecostal Church there. In the summer of 1978, with the untimely death of then District Superintendent C. G. Weeks, T. F. Tenney was first appointed to serve as interim District Superintendent, then elected District Superintendent, a position he continued to hold through May 1, 2005, at which time he retired and took on the role of Bishop Emeritus of the Louisiana District UPC. From 1978 until the time of his death, Reverend Tenney and his wife have resided in Central Louisiana, first in Tioga on the District Campground, and then in Alexandria, after retirement. Following retirement from his administrative duties as District Superintendent, Reverend Tenney continued to travel and preach and teach around the world and the United States.
During his years of administrative service, Reverend Tenney served as a member and then honorary member of the UPCI General Board. He also served on the Board of Lighthouse Ranch For Boys in Loranger, Louisiana and Tupelo Children's Mansion in Tupelo, Mississippi.
Bishop Tom Fred Tenney died on Friday, June 1, 2018, at 2:05 pm while a resident at Alexandria's Regency House (Alexandria, LA). He was 84 years of age.
Books By T.F. Tenney
Displaying all 2 products