Theodore Drange
< Back to author list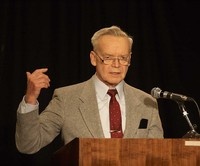 I have been teaching philosophy at West Virginia University since 1966 (at the rank of full professor since 1974). Prior to that I taught philosophy at Brooklyn College (1960-62), the University of Oregon (1962-65), and Idaho State University (1965-66).
My teaching specialties are Philosophy of Religion, Philosophy of Language, and Theory of Knowledge. I have also taught many other subjects, including Logic, Philosophy of Mind, and Philosophy of Science. Two courses which I invented and which I teach on occasion at WVU are Philosophy of Games and Philosophy of Fundamentalism. The latter course is a critical study of the doctrines of Christian fundamentalism and their philosophical implications.
I received my B.A. degree in 1955 from Brooklyn College (which is now part of CUNY) and my Ph.D. from Cornell University in 1963.
Among my publications are two books. One is in the philosophy of language entitled Type Crossings (The Hague: Mouton & Co., 1966). The other is in the philosophy of religion entitled Nonbelief and Evil: Two Arguments for the Nonexistence of God (Amherst, NY: Prometheus Books, 1998).
There are also several articles published in print journals, the most recent ones being the following:
"Liar Syllogisms", Analysis 50 (1990), pp. 1-7.
"The Argument from Non-belief", Religious Studies 29 (1993), pp. 417-432.
"Slater on Self-referential Arguments", Analysis 54 (1994), pp. 61-64.
"Biblical Contradictions Regarding Salvation", Free Inquiry 14 (Summer 1994), pp. 56-57.
"Nonbelief vs. Lack of Evidence: Two Atheological Arguments," Philo 1, no. 1 (Spring-Summer 1998), pp. 105-114.
"Incompatible-Properties Arguments: A Survey," Philo 1, no. 2 (Fall-Winter 1998), pp. 49-60.
Personal Data: I was born in 1934 in Brooklyn, NY and married in 1959. I have two children, both living in CA, and five grandchildren.
More:
http://atheistsunited.org/article/281...
http://en.wikipedia.org/wiki/Theodore...
http://www.amazon.com/Theodore-M.-Dra...